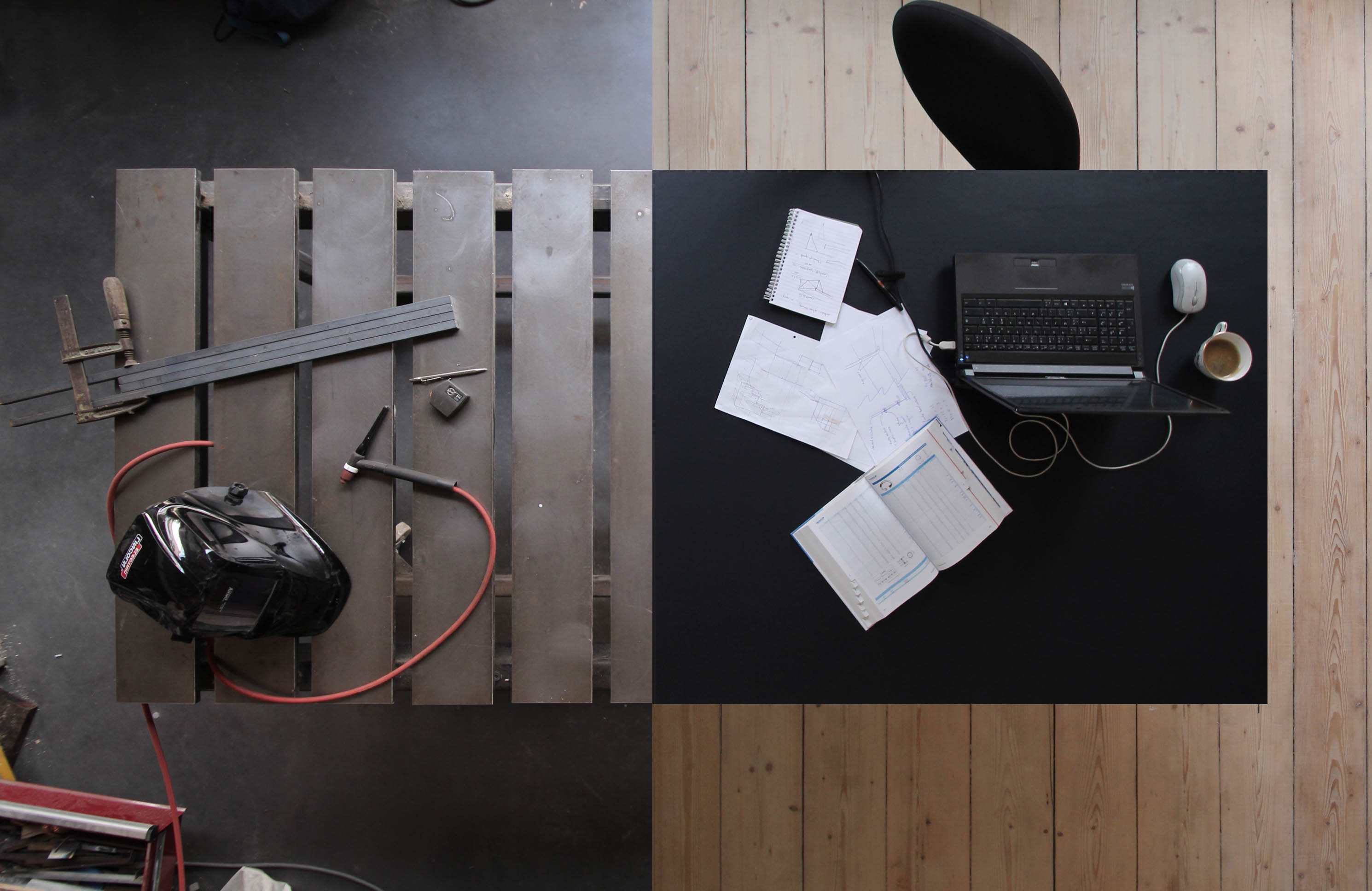 Work
Hendrik Roels is active in the field of furniture design and furniture manufacturing.
Our main focus is projects that require both designing and manufacturing and have the intention to create something unique and new. But ultimately, the aim is to formulate a fitting response to the clients question at hand whether this concerns designing, manufacturing or both.
Our workspace is situated in the city center of Ghent in an old townhouse and is comprised of an office space on the first floor and a workshop on the ground level, located behind the building and courtyard.
The combination of an office and workshop enables a close relationship between manufacturing and designing which has several advantages. First of all design ideas and concepts can be tested early on and used as a feedback mechanism to make the right decisions in the design process. Secondly, realising own designs increases the valuable knowledge of understanding the limitations and possibilities of materials, tools, machines and production processes which in turn can be used in the designing phase. Finally the process of finding the right person or multiple persons if more than one craft is involved, to entrust with the realisation of a design, is bypassed.
Person
Born in Ghent, Belgium, in a big house constantly under construction; making, fixing and handiwork were daily routine. Because of this, the love for making something with your own two hands was already kindled at a very young age and grew each day. The informal learning proces of observing, helping and experimenting with tools found around the house I consider one of the most important parts of my education.
Drawn to a more theoretical education in school, the decision was made to become an Architectural Engineer and with this the love for designing was kindled.
After graduating and while working as an architect, the practical side felt malnourished which resulted in taking several practical courses to learn a craft and experimenting with making and designing furniture and objects for own use. This in turn led to the decision to finally combine these two important parts of my life in one profession and start my own business.
Formal Education and Experience
Bachelor and Master's degree in Architecture and Construction techniques at the University of Ghent (2013)
Worked with Architecten Achtergael and completed the architectural internship (2014-2016)
Certificate for TIG Welder (professional) at CVO Kisp (2014-2017)
Advanced Master's Degree of Science in Welding Engineering at the KU Leuven (2016 – 2018)
Welding Certificate, Fillet Weld in PH position with the TIG welding process, issued by TÜV SÜD (2017)(ISO 9606-1 141 T FW FM1 S t2.0 D50 PH si)
Certificate for SMAW-welder at CVO Gent (2017 – 2018)